The Shanghai World Financial Center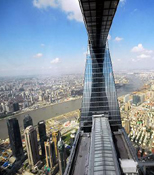 The Shanghai World Financial Center, another skyscraper locating in Lujiazui Financial zoon after Jin Mao Tower, ranks the first in China with a height of 492 meters. It is a multifunctional building which consists of offices, hotels, conference rooms, observation decks, and shopping malls. Park Hyatt Shanghai is the hotel part containing 174 rooms and suites from 79 floors to 93 floors.
The construction of foundation began on 27 August, 1997. In the late 1990s, the Japanese Mori Building Corporation had a fund shortage caused by the Asian financial crisis in 1997 to 1998, which halted the project after the foundations were completed. On 13 February, 2003, the Mori Group increased the building's height to 492 m and 101 stories from the initial plans for a 460 m, 94-story building. The new building will use the foundation of the original design. The building construction resumed on 16 November 2003. On17, July, 2008, after 10 years' work, the building was finally finished and opened to the public.